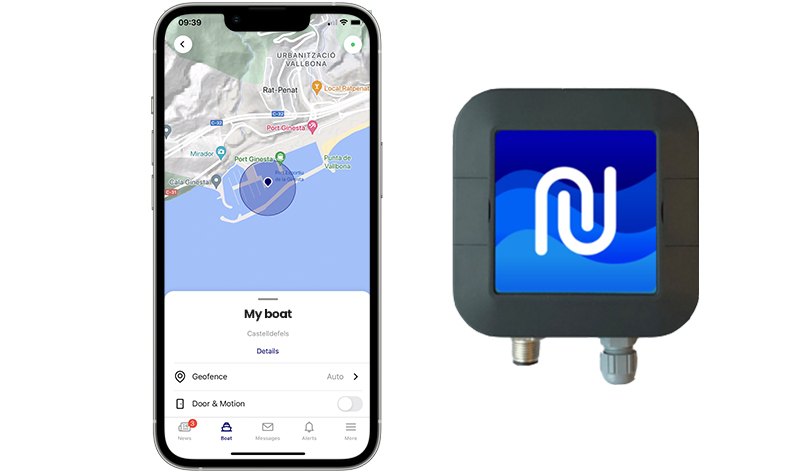 The Retrofit Package is the solution to connect any existing boat with Seanapps. It can be fitted to any type of boat, no matter her age or brand. It only requires a 12V/24V power supply to make it work. *excluding VAT rate, to be converted according to the current exchange rate
Composition of the Retrofit Package:
The Retrofit Package is sold with the following items:
The Seanapps box
The bilge water sensor
Electrical harnesses (power supply + auxiliary)
1 year client subscription for 4G coverage
To collect additional data on your boat, you can add two extensions : Extension 1 : to link Seanapps to the boat's electronics Extension 2 : to connect Seanapps to the engine Please note:
Extensions are not included in the price of the Retrofit Package
The installation of the extensions depends on your boat's equipment
The information available on your phone with Seanapps :
A boat equipped with a Retrofit Package will be able to collect the same data as a boat equipped with Seanapps as standard. You will be able to access three different types of data: Security, Navigation and Comfort. The display of this data is personalised to offer you the most relevant user experience.
Here is an example of the information you can access from your phone:
GSP Location: Receive an alert when your boat leaves its mooring area.
Battery state: Avoid bad surprises and make sure your boat's batteries are ready to sail.
Mileage: After your trip, view your performance and mileage for all your stages.
Fuel level: Before sailing, make sure you plan your departure by checking your fuel level on your smartphone.
Tank level: Check the level of the fresh water tanks of your equipment from your application.
Order your Seanapps device on the website
An order form is available on our website. Your order will then be processed by our team and we will contact you to finalise it.
Contact one of the certified Seanapps dealers-installers
Once your Retrofit Package has been delivered to your dealership, your certified dealer-installer will install Seanapps on your boat.
Download the application and activate your boat
Once your boat has been activated by your dealer, you can create your account on the Seanapps application and access your boat's data!
They already trust Seanapps:
★★★★★
" Seanapps is brilliant! The power in my marina was inadvertently disconnected recenty. Seanapps alerted me about the low battery levels, which prompted me to come to my boat to charge my batteries with the generator. I also informed the marina of the problem. No doubt that helped out a few other boats as well. It saved me buying new batteries. A great app to have !"
★★★★★
"Seanapps allowed me to be notified when my boat came off its mooring during a storm. I was able to get to the scene quickly and locate it without any problems."
★★★★★
"I have plans to resell my boat. Thanks to Seanapps, I now have a complete history of my maintenance book that I could share with the potential buyer."
Frequently asked questions
Why I can not install Seanapps on my own?
To order and install Seanapps on your boat you must go through an authorised dealer-installer. The installation requires a specific training.
How much does it cost to set up Seanapps?
The installation of the Retrofit Package on board your boat is not included in the sale price. The cost of installation may vary depending on the size of your boat and will be defined by your certified dealer-installer at the time of purchase.
With whom are my personal data shared?
You can change the privacy settings of your Seanapps application at any time. Your data may be shared with two parties: your dealer and the manufacturer of your boat.